Greece, Athina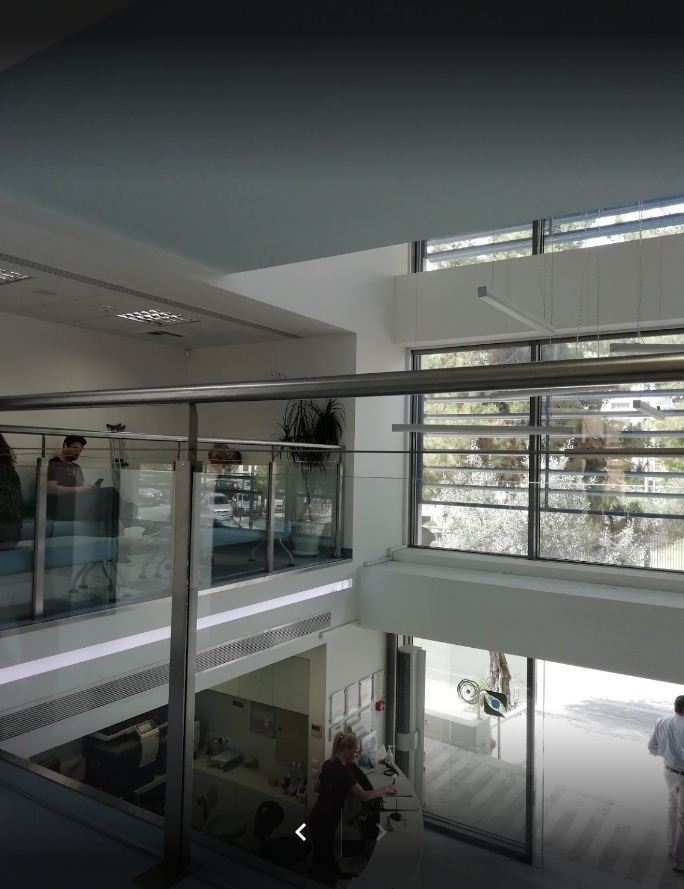 About the Hospital
---
OMMA eye Institute is a major diagnostic and surgical eye clinic in Athens, Greece.
It was founded in 1990 and operated as an eye care center, serving the needs of a large number of ophthalmologists in the Athens area. Now, the clinic has been established and operates as a major and of high standards day eye clinic.
At Omma clinic, services are offered by a group of 100 well established ophthalmologists, the owners of Omma as well as dedicated experts to specific areas of ophthalmology.
Omma's facilities cover an area of 2000 sqm and are just a breath from the Athens center. Omma currently handles 2000 cases per year, almost one third of which is primary cases and the rest is secondary cases, referred to our clinic by over 500 associated ophthalmologists from all over Greece.
Omma owes its success to the doctors' expertise in eye care combined with cutting-edge technology equipment.
All departments are manned by leading specialists and specially trained nursing staff. In addition, they are supported by cutting-edge technology equipment, like:
• Primary eye care Department
• Corneal/Refractive Department
• Corneal/cataract Department
• Glaucoma Department
• Fundus and MaculaDepartment
• Diabetic Retinopathy Department
• Strabismus and Pediatric Ophthalmology Department
• Orbit and Reconstructive eye surgery Department
• Low Vision Aids Department
• Eye Ultrasound Department
• Refractive Department
• Electrophysiology Department
• Genetics Department
All Departments are manned by leading specialists Ophthalmologists and specially trained ophthalmic nursing staff and equipped with cutting edge technology equipments like : • Corneal/Refractive Department: Pentacam, standard. Topo, Endothelial count, UltrasountPachymetry, Contrast sensitivity, Spectralis OCT- Ant Segment.

• Glaucoma Department: Octopus Automated perimeters, HRT1, HRT3, Spectralis OCT, Optic Disc Photography, YAG, ALT, Diode and SLT Lasers.
• Fundus/Macula Department: Spectralis HRA/OCT Fluorescein, Indocynine X2, Angio -OCT, Dri triton 3D-Angio OCT, Photodynamic treatment Operating room for anti-VEGF infusions
• Electro Physiology Department: Standard ER, Multifocal ERG, EOG, VEP.
• Ultrasound Department: EllexEyeCude Ultrasound, Paradigm P40 UBM multistation for And ant Post SegmUltrasoun.
• Laser Department: Nidek Green, PASCAL, Ellex, SLT, Nidek YAG.
• Surgical ONE DAY-CLINIC Department : 4 operating rooms, fully equipped with 3 Zeiss and 1 Luxor operating Microscopes, 2 Infinity and 2 Centurion Phaco systems, 2 stellaris, 2 constellations system.
• Refractive Surgical Department: 2 operating rooms, fully equipped with schwind Amaris 750s, wavelightexcimer laser, Avedro- corneal cross- linking, FEMTO LDV Z4
OMMA's chirurgical equipment armamentum includes 4 fully equipped operating rooms with 1 Luxor and 3 Zeiss surgical microscopes, 2 infinity, 2 centurion phaco, 2 stellaris and 2 constellation.
ATHENS REFRACTIVE LASER CENTER
In 2012 Omma cooperated and collocated with Athens Refractive Laser Center. The joining of the two institutions constitutes a major cooperation ever occurred in the field of the Greek ophthalmology.
Since 1997, the Athens Refractive Laser Center has offered pioneer services to both doctors and patients in the treatment of refractive errors and corneal diseases.
Our technical equipment and specialized personnel subserve with ultimate professionalism the exceeding number of 200 ophthalmologists and their patients.
Location
---

No programs were found matching the search criteria!